A NEW ART AMENITY FOR PATIENTS AND THEIR FAMILIES WHICH SHOWCASES THE WORK OF OVER 2O CONTEMPORARY ARTISTS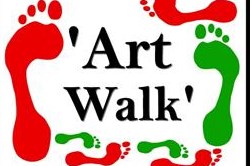 Come and visit our Art Exhibition on the link corridor between St Luke's Radiation Oncology Centre and Beaumont Hospital
20% of all proceeds from sales will be shared between The Friends of St Luke's and The Beaumont Hospital Foundation.
Click here to download the Catalogue of art works
Click here to download the Price List
For further details or purchase a piece contact Gaye Hand on 01-7045552 or email gaye.hand@slh.ie
A contemporary exhibition – Art Walk – showcasing the work of twenty artists has opened on the link corridor between Beaumont Hospital and St Lukes Radiation Oncology Centre.
What was formerly a functional corridor, has been transformed into a new visual amenity for patients and visitors to the hospital. The space will also serve as an additional exercise area for recuperating patients who will be encouraged to walk the corridors length as part of their recovery.
Opening the exhibition, artist Guggi said,"Art is a form of therapy, no doubt about it. Looking at pieces of art and creating pieces of art is like a tonic. Painting has been therapeutic for me; it has saved my ass on more than one occasion and I think this will bolster the spirits of people receiving treatment".
The brains behind the exhibition is artist Sheelagh McShane who came up with the idea while receiving treatment for breast cancer.
"When I first walked through the corridor I felt like the walls were crying out for colour and for art. It is so beautifully lit it looked like a gallery space or a blank canvas. I think it's lovely that people can move from one hospital to the other and in the process disappear in this space filled with beautiful paintings," she said.
Artists exhibiting include Rod Coyne, Norman Teeling, Neal Greig, Maria Kilgallon, Paul Fallon, Eileen McNulty and Paul Leech, who attended the launch.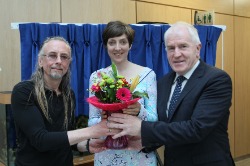 Guggi, Sheelagh McShane and Minister Deenihan pictured at the opening