Update March 2019 – The Friends have funded more new VMAT radiotherapy for two Elekta Linear Accelerators at the cost of a further €241,000 to enhance the service already available
Next generation arc therapy for faster treatments, lower radiation dose to the patient
Elekta VMAT (Volumetric Modulated Arc Therapy) is Elekta's next generation arc therapy technique that establishes new standards for radiation therapy treatment speed and dose reduction to the patient.
With Elekta VMAT, single or multiple radiation beams sweep in uninterrupted arc(s) around the patient, dramatically speeding treatment delivery. Doctors can use Elekta VMAT with complete or partial arc(s) to reduce treatment times from the eight to twelve minutes required for "conventional" radiation therapy to as few as two minutes.
Benefits to the patients of St Luke's Radiation Oncology Network include increased treatment capacity and reduced waiting times, improved patient experience and the ongoing development of Paediatric Radiotherapy at St Luke's Hospital, Rathgar.
The Friends of St Luke's are funding for this new service at St Luke's Hospital, Rathgar at the cost of €674,653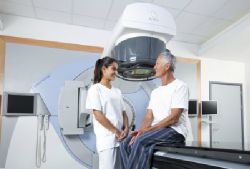 Update from Professor Brendan McClean, Network Director or Physics and Dr Orla McArdle, Clinical Director.
VMAT now operational in St Luke's, Rathgar
Intensity Modulated Radiotherapy (IMRT) is now a routine part of a modern radiotherapy service and provides patients with treatments which reduce side effects and improve treatment outcomes.  In the past number of years a version of IMRT, called Volumetric Modulated Radiotherapy (VMAT), has been shown to have further benefits and is seen to be an even better IMRT approach, being more effective and very efficient.  VMAT is operational in the St Luke's network sites at Beaumont and St James's facilities but was not available in the Rathgar site.   Funding provided to St Luke's by the Friends of St Luke's in 2014 allowed us to upgrade two of our treatment machines to deliver VMAT treatments.  Following a period of commissioning the new functions, the first VMAT treatment was delivered in Rathgar in March 2015.
There were a number of important aims in introducing this service:
Increased treatment capacity and reduced waiting times: There are presently 20 patients per day being treated with VMAT in Rathgar.  Given VMAT is faster than traditional IMRT this provides a time saving of 1.5 hours per day which in turn is used to treat other patients.  This has allowed us to increase the total number of patients treated per day and to increase the number of patients receiving this improved treatment approach.  This has also contributed to reducing the time waiting for treatment for patients.
Equality of access across SLRON sites: All 3 sites in the St Luke's network now provide VMAT treatments and all patients who might benefit from the approach now has access to this treatment
Improved patient experience: The standard treatment slot for radiotherapy patients is 15 minutes.  VMAT allows very complex treatments to be shortened by around 5 minutes per treatment meaning the patient spends a lot less time in the tight fitting mask used during treatment, significantly improving the comfort and experience of the patient
Ongoing development of Paediatric Radiotherapy: St Luke's in Rathgar delivers a specialised paediatric radiotherapy service. The children frequently require complicated radiotherapy treatment which can be delivered in a short period of time using VMAT.  As well, VMAT treatments may reduce the risk of significant long term late effects of radiotherapy, experienced by survivors of childhood cancer as they grow up. Paediatric VMAT treatment plans have been developed and the first patient is due for treatment by mid-October
Meeting national and international standards in radiotherapy:  With the introduction of VMAT in Rathgar there has been a large increase in the number of patients receiving IMRT bringing us well on the way to the international guideline recommendations
Developing research initiatives: A number of new clinical trials now require that patients are treated with VMAT.  With the addition of VMAT in Rathgar this means an increased number of patients can participate in important international clinical trials.
In conclusion, in a short period of time since the introduction of VMAT in St Luke's Rathgar we have been able to demonstrate a number of benefits to patients treated here and we have succeeded in meeting all our intended aims in introducing this treatment.None of this would have been possible without the support and funding provided by the Friends of St Luke's through the generous donations of the public.Sincere thanks to all the supporters and fundraisers of The Friends throughout the country.