Oakland Lodge, a new initiative in cancer care for the Irish health service, is designed to facilitate independent patients who are undergoing treatment programmes. Located at the former nurses' home on a secluded part of St. Luke's Hospital's grounds, the lodge includes 51 bedrooms, all en-suite and is fitted out to very high standard. It allows for complete patient privacy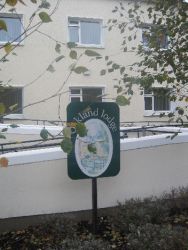 and independence while the full range of hospital and medical services are available close at hand. Some bedrooms have facilities for a patient's partner or a guest to share. Patients now take their meals in the Lodge in the new Day Room, which is also used for educational programmes, evening quizzes and get-togethers. All rooms have a fridge and tea making facilities, washing and ironing facilities are also available.
Patients are encouraged to regard the Lodge as a home away from home and are free to come and go as they please.
Medical staff assess each patient prior to admission. Your consultant will determine your suitability for Oakland Lodge. For patient safety reasons, a strict admission criterion applies.
Oakland Lodge has been developed through the fundraising activities of The Friends of St. Luke's all over the country and was completely upgraded and refurbished in 2011. Refurbishment is now complete and patients are enjoying the comforts of the new and improved facilities.