27th September 2019 – we received the sad news that the lovely  Chrissie Reade passed away peacefully.  We extend our deepest sympathies to the Judge and Reade families at this sad time.  RIP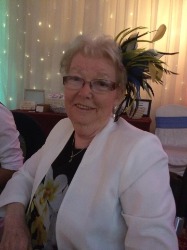 2019 Update
The Judge Family raised €32,500 from their countrywide collections in 2018 and presented the big cheque on 21st February to Appeals Director Yvonne Boland.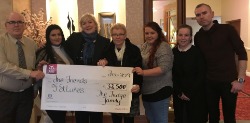 This amount brings the total raised for St Luke's by Chrissie and Family to just over an amazing €850,000
2016
The Judge Family from Edenderry, Co Offaly celebrated 30 Years Fundraising for St Luke's and raising a total of €750,000.
Last year alone they raised €35,300 collecting monies around the country in rain, hail and shine all because their matriarch Susan Judge was treated for cancer in St Luke's in 1980's.  Her daughter Chris Reade took this fundraising challenge upon herself, after her mother passed away in 1991.   Now the family have reached the incredible €750,000 milestone.  Chris herself was diagnosed last year with stage 4 cancer and is still undergoing treatment but continuing to collect for St Luke's!!  An inspiration to us all!!