COVID-19 has changed many processes in the network. These changes also impact our patients especially in-patients in St Luke's hospital in Rathgar.
SLRON have introduced it's own postal delivery service 'Hugs from Home'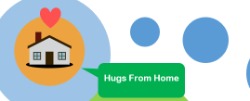 It can be difficult to have a loved one or friend in hospital and not be able to visit them.  While many of our patients are able to keep in contact via smartphones, this initiative is another way for people to keep in touch with a  loved one especially when they are unwell.
This service offers families, friends and neighbours an opportunity to say connected by sending a letter or message to their loved one who are in our care, by emailing hugsfromhome@slh.ie. Hospital staff will then print out the letter/message, place it in an envelope and deliver it to the patient sealed. The service will run from Monday to Friday with emails printed & delivered within a 24-hour time frame