The Minister for Health, Dr James Reilly, TD officially launched the new Intracranial Stereotactic Radiosurgery Service at the St Luke's Radiation Oncology Unit at Beaumont Hospital on Thursday 2nd May.  This new service designed to treat patients with cancerous and benign brain tumours, intracranial stereotactic radiosurgery is the most sophisticated and precise treatment currently available internationally for patients with particular types of brain tumours and cancers.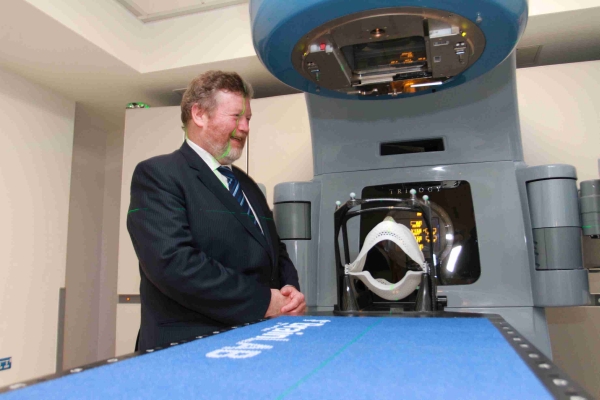 Funded by the Friends of St Luke's, this new state of the art treatment was developed in partnership with the St Luke's Radiation Oncology Network, the NCCP and the National Neurosurgical Centre at Beaumont Hospital.
The new service will further enhance the current stereotactic service in St Luke's Hospital. Rathgar, Up to fifty patients are expected to benefit from the treatment in Beaumont this year, with that number increasing to around 200 annually over the coming years as the service develops.    It will also mean that patients will no longer have to travel to the UK for this particular treatment.
Involving an investment of €1m by the Friends of St Luke's, the new treatment significantly improves the patient experience – allowing for a process that is now completed in 20 minutes. It is less intrusive, provides more patient comfort and removes the need for a metal frame to be attached (this would routinely take place at 8am on the day of the procedure and remain in place for another eight hours).
Speaking at the launch, Dr David Fitzpatrick, Consultant Radiation Oncology, St Luke's Radiation Oncology Network noted: "This will allow our patients to benefit from this new standard of radiotherapy treatment – one that delivers fast, precise and less invasive treatment. The speed at which we can treat patients – in as little as 20 minutes – will mean many more patients can access world leading cancer treatment in Ireland."
The Friends of St Luke's are delighted to fund this exciting new development in treating patients of the St Luke's Radiation Oncology Network.  This is only made possible through the generosity of our supporters throughout the country.
According to Mr Mohsen Javadpour, Consultant Neurosurgeon at the National Neurosurgical Centre Beaumont: "This new equipment, provided by Novalis, allows us to target difficult to treat cancers, such as inoperable tumours deep in the brain where open surgery carries a high risk. It enables us to treat the tumour whilst protecting the nearby healthy tissue. The recovery time is much shorter compared to open surgery and most treatments can be performed as a day case procedure."